IZZY
Age: 8 years
Temperament: Very loving and cuddly
Dogs: No
Cats: No
Children: Yes
Hello my name is Izzy.
I am a typical staffy, if not a little on the tubby side! I love to get my nose in everything I can and I am good on the lead.
I am a very loving dog, and love to play and meet new people. My favourite thing though, is a good stroke and a tickle.
I am a serial licker ... you should probably know that! Tongues
I know a few commands, including, Sit, Stay and leave.
I have grown up with all ages of children, so I am pretty used to them, but would want to meet them before living with them!
Although I have never lived with a cat, I do like to chase them when I am outside on walks ... well, what dog wouldn't?! BOL.
I am good at being left and coming in the car with you, and only bark if I hear a knock at the door (but only to let you know there is someone there!)
I walk past dogs OK, but can be a little scared if they run at me, so they say you should be a little cautious.
My ears may be starting to get a little thread bare, but my heart is strong ... I just want someone to love me and have a sofa to curl up on with you ... Please get in touch so I can give you lots of staffy kisses Smile
By the way, I have to have eye drops, but they only cost £20 a month ... which isn't a lot at all ... is it?! I will save up my bonios if it helps! Wink
Love Izzy x
Izzy is spayed, vaccinated and microchipped .
She is currently in the Kent area but can be rehomed anywhere in the UK,
pending a successful home visit.
However any adopter should be willing to travel to meet Izzy where she is now.
Izzy is on our Matchmaker Scheme which means she is still with his present owner.
As she is on the Matchmaker Scheme, and not directly in our care, the adoption donation is a donation of your choice. Any money donated will be used to help the Senior Staffys in our care who have no one else to help them.
If you think you could offer Izzy a new home please contact us at
seniorstaffyclub@hotmail.co.uk
or call Wendy on 07505010823.
http://www.seniorstaffyclub.co.uk/Pages/IzzyMM.aspx
admin can we have heading changed to Shropshire kennels please as Izzy has now had to come into SSC as one of our kennel dogs, but this little lady is very happy now to be in kennels, here she is out on her walk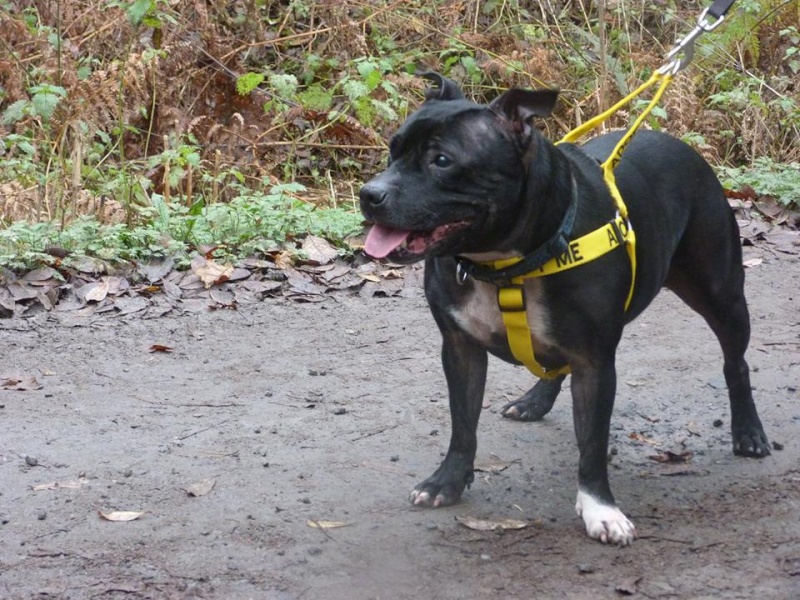 ---
Permissions in this forum:
You
cannot
reply to topics in this forum