Yoda
Age: 14yrs
Temperament: Quiet, cuddly girl
Dogs: Is ok with them but can get stressed if they are around her in the house.
Cats: Yes
Children: 15yrs plus
My name is Yoda - Lovely I am!
I am in Senior Staffy Club care as my owners emigrated and I could not go with them. I am in a nice foster home so don't mind too much as I wouldn't like all that heat at my age!
I prefer the quiet life, as my eyesight and hearing are not too good these days so I think my ideal home would be a peaceful one, where I can simply snooze, and have lots of cuddles. I still like a few short walks though, not too far, but I think a nice garden I can potter about in when I want to would be fabulous.
I don't mind other dogs too much but I don't want to be bothered with youngsters wanting me to play all the time, so would prefer to be on my own. Cats well I can take or leave them as long as they don't want attention from me - I would rather give all my attention to you!  
I am a good girl in the house and I don't mind being left at all - the peace and quiet is nice ;-) When the mood takes me I still like a little play and like to get next to you on the chair for a cuddle.
I have been to see the vet person who says I am healthy for my age...how rude the young pup! I think I am a grand old lady.
I would just like a friend to spend my days with, to be able to take a potter in the garden oh and a nice Jumbone please I like those! Would you like a cuddly companion? If so contact Senior Staffy Club and we can get together.
Love Yoda x
http://www.seniorstaffyclub.co.uk/Pages/Yoda.aspx
Hi Yoda here just thought I would pop along and let you know how I am doing following my emergency operation. I had a very nasty infection called Pyrometra and if my lovely foster dad had not spotted it in time I may not be here speaking to you now....but I am At my age - 14yrs- it was not something I wanted to have to go through but I am doing okay - 'dad' says I am trotting about like a little pony now! and I am loving my food again The vet man said that all my blood tests show I am otherwise a very healthy girl and now this problem has been sorted there is no stopping me. I do like it here with my foster dad but would like to find a retirement home where there is a garden I can get directly on to so that when the nice weather arrives I can trot in and out and lie in the sun (if we have any!). I would prefer a home where there are no other dogs, but I can live with cats and any children should be older teenagers please. I don't need long walks at all just a trot out now and again - but I do insist on plenty of snuggly places to sleep including your lap as sleeping is my favourite thing!
We have some fantastic news we want to share with you – Senior Staffy Club girl Yoda aged 14yrs young has only gone and bagged herself a lovely new family!
Her new mom and dad went to visit her a couple of days ago with her potential new fur-sister Kassi and everyone just got along fine – which is wonderful news.
Sadly due to a pre-booked holiday Yoda's new family cannot take her home until the 19th May, and then of course there will be a two week settling in period to make sure everyone is still getting along – but Yoda is Reserved! – and has a lovely new home near the beach waiting for her - you lucky girl Yoda!
With massive thanks to foster dad Bill for taking such good care of her and who will continue to do so until she can go to her new home x
All going so well,,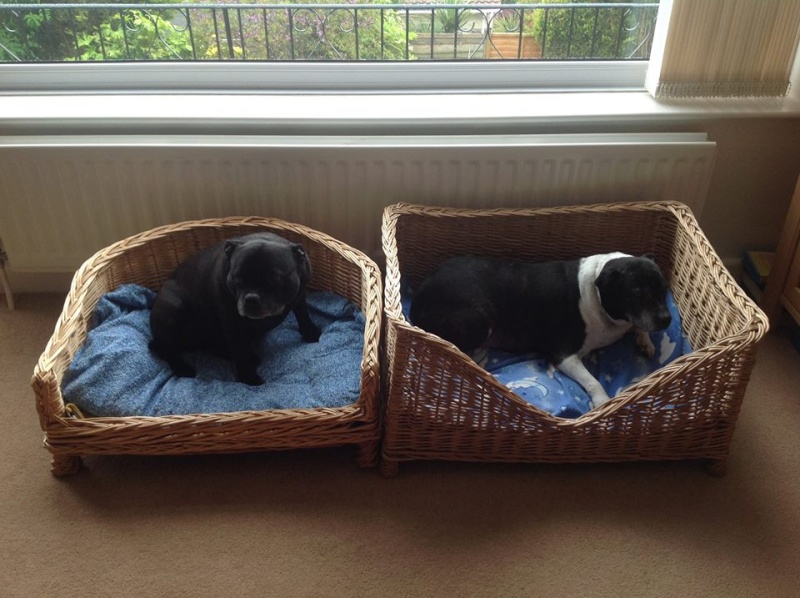 ---
Permissions in this forum:
You
cannot
reply to topics in this forum