Contact/organisation details: Iron Mountain Canine
Does the animal have rescue back up?: Yes - like glue
Location: Suffolk
Number of groups: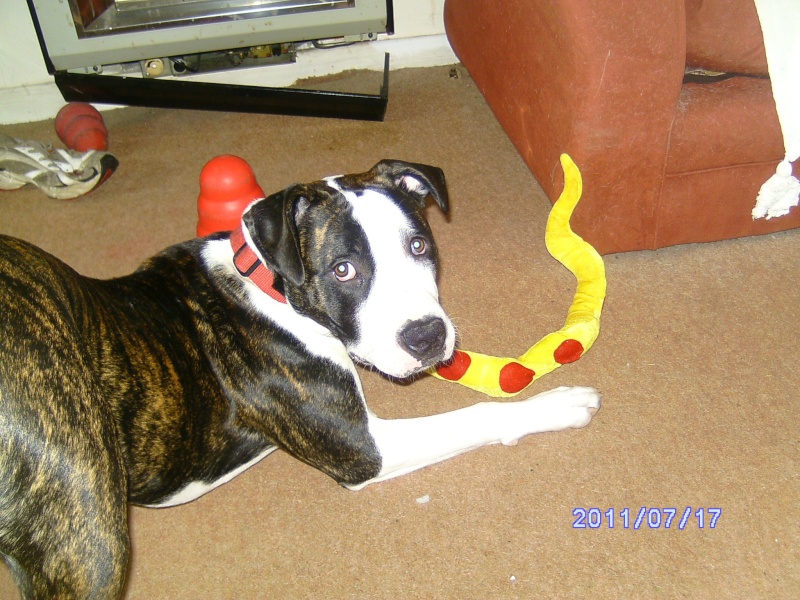 (repeat the following for each group)
Group:
Number of animals: 1
Type/Breed/Variety: AMB X
Sex: Female
Age(s): 8 months
Name(s): Bonnie bon bon la bisquits
Colours: Piebald
Neutered: Not yet, no season as yet
Reason for rehoming: IMC foster dog
Temperament: Daft
Medical problems: papiloma virus on tongue under treatment
Neutering: Animal will be neutered/castrated prior to being rehomed unless for medical reasons. Can this be guaranteed? yes
Will the group be split:
Transport available: nope
Other: Bonnie is a very sweet, very funny, busy, smart, pain in the butt. She came to us at 5 months old having been surrendered by an arthritic agoraphobic who thought taking on litter siblings was a good idea. No really.
Bonnie will not go round things if she can go through them, likes to 'help' with washing and gardening chores, is made of rubber, likes to sit on you given the chance, has been non reactive with other dogs, and is an absolute joy but very hard work. She is going to be HUGE and her training will have to be spot-on as clumsy is her middle name...
She needs a home with patience and humour in spades, and who are dedicated to making her into an ambassador for large breeds everywhere.


Similar topics
---
Permissions in this forum:
You
cannot
reply to topics in this forum