SPENCER
(AKA MR SPENCE)
(Can also be fostered)
Age: 9-10 yrs
Temperament: Friendly and affectionate
Dogs: Possibly with a calm female
Cats: No
Children: Teenage years
Hello everybody my name is Spencer, I am around 9 years old and am a dinky little boy.
I don't know how, but I ended up in the dog pound, but am now safe with the Senior Staffy Club. I am a bit thin at the moment but have started to put some weight on.
I love people, cuddles, kisses and tummy rubs, and I'm always so pleased to see my friends when they come to walk me.
I do like my walks, but not very long ones (well certainly not when it's cold!), and I am told I am very good on my lead, I never pull.
I love my treats too (well, what Staffy doesn't?) and will sit nicely to take one, I can give you my paw too.
I think I might like to live with a fursister, but she would have to be a calm girlie, and we would need to meet first to see if we liked each other.
I did have a problem with ulcers in my eyes but with vet treatment they have cleared up. I wasn't very good about having drops in my eyes, but when I've learnt to trust you only take me to the vets to help me, maybe I'd be better if I needed them again.
I love being in the warm, and would so much like my very own human lap to curl up on or the sofa would do for a while if you were busy.
So do you think you'd like to come and meet me?? If so it tells you how you can do that below.
I promise to give you kisses if you do!
Love Spencer xx
Spencer is neutered, vaccinated and microchipped .
He is in kennels in the Staffordshire area
but can be rehomed anywhere in the UK, pending a successful home visit.
However any adopter should be willing to travel to meet him where he is now.
There is an adoption donation of £90 for Spencer
and all money donated goes directly to helping
all the Senior Staffys in our care
If you think you could offer Spencer a new home please contact us
at
seniorstaffyclub@hotmail.co.uk
or call Nikki on 07870392164
http://www.seniorstaffyclub.co.uk/Pages/Spencer.aspx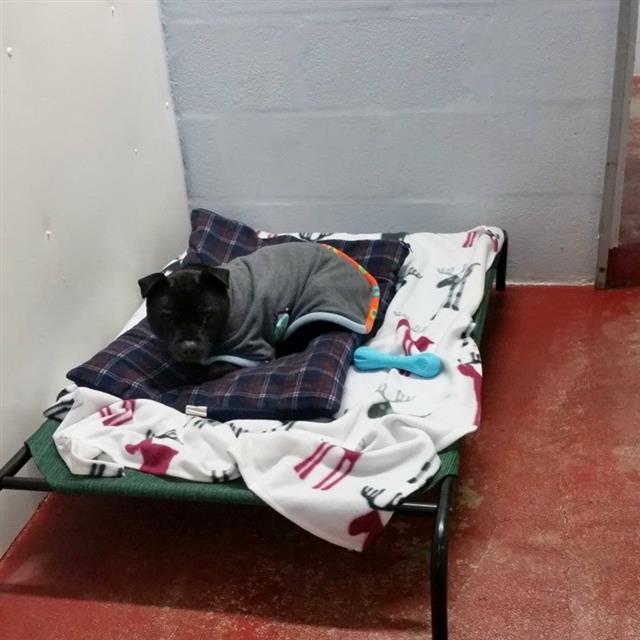 ---
Permissions in this forum:
You
cannot
reply to topics in this forum