Contact/organisation details: Iron Mountain canine
Does the animal have rescue back up?: yes
Location: Suffolk
Number of groups: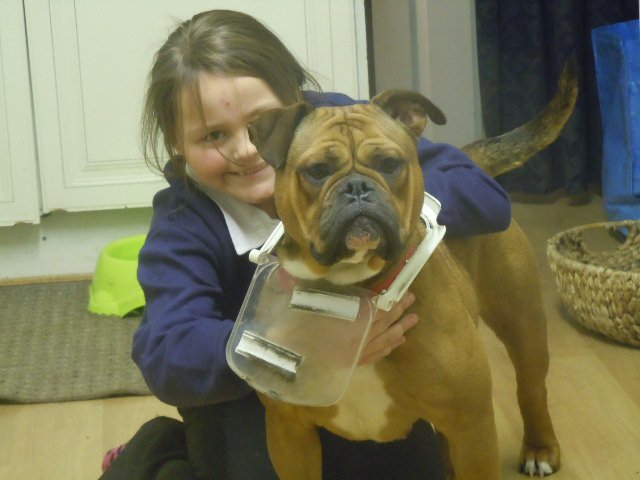 (repeat the following for each group)
Group:
Number of animals: 1
Type/Breed/Variety: Dorset bulldog
Sex: F
Age(s): 2-3
Name(s): Lottie
Colours: Orange
Neutered: NO
Reason for rehoming: IMS foster dog
Temperament: Awesome - see 'other'
Medical problems: how long have you got?
Neutering: Animal will be neutered/castrated prior to being rehomed unless for medical reasons. Can this be guaranteed? No - see 'other'
Will the group be split:
Transport available: no
Other: Lottie is a return, problems were reported in her original home that hadn't manifested themselves in her previous foster home, and since she's been back, haven't since - we will fully disclose all correspondence with the original home, and provide contact for both of her foster carers upon request.
Lottie has a grade 5 heart murmur since birth, again I have a full history on this and it will be disclosed to serious applicants. Because of this she cannot be neutered but importantly SHE CANNOT GIVE BIRTH neither her or any puppies would survive. She also has allergies which are under control with a careful diet and treatment plan. Because of all of this, Lottie is a gift dog, no rehome donation will be asked of her adoptive home, you may have her for years or weeks but she will delight you the moment you meet her. I had the pleasure of fostering her brother, Bert, earlier in the year, and these bulldogs are the funniest animals I have ever met.
Lottie is fostered in a normal bustling family home with children from 4 up, cats, other dogs of both sexes, snakes and goodness knows what else. She makes regular trips out for socialisation and is very happy as long as people do not descend upon her from a height, she will warn them off, her vision is not fantastic (all of the bulldogs walk into things) and people approaching to pet her head suddenly take her unawares. Her tail is constantly set to 'rigid', she isn't a dominant dog, that's just how she carries her tail!
her heart condition makes no difference to her energy levels, she keeps up with a pack of mastiffs but also won't go more than 5 feet away from her owner. She is unfussed by other dogs, isn't interested in major play sessions and likes to do her own thing, her best pal is the resident 4 year old boy, who she sits on the floor with and watches TV. Lottie likes to have a soft toy to carry when she feels unsure, and especially when people arrive at the door. She is fully crate and house trained.
Lottie has now had 4 catflaps stuck on her head, snores and farts like a trooper, falls over, is really pleased to see you when you come out of the loo and is a funny, snorty joy to have around. There are videos of her on our website.
yes...that's a catflap on her neck. It would be funny if she didn't do that at least once a month....
So a home without catflaps then

She's adorable
for her

Sal

Member




Posts

: 9857


Join date

: 2009-07-15


Age

: 47


Location

: Warwickshire



she is a stunner what a shame about her health, poor lil baby girl x hope she finds that for ever home soon x


presababe

Member




Posts

: 39


Join date

: 2012-01-08


Age

: 46


Location

: norfolk




---
Permissions in this forum:
You
cannot
reply to topics in this forum