LEO
Age: 8 years
Temperament: Very cuddly and kissy
Dogs: May be able to live with other dogs with introductions
Cats: Believed act friendly but pending full cat test
Children: Pending child test but appears friendly however as we have no history 8yrs old minimum
Hello my name is Leo, well at least that is what my new friends at Senior Staffy Club call me, I was found all alone before they saved me and so they don't know my old name.
I am a very cute and cuddly chap and I love having my walks out from the kennels where I am staying at the moment but mostly I like to sit on my walkers laps an
The walkers here say I am very good on the lead, I don't pull at all.
I even seem to like all the other dogs who are staying here with me, so if you have another dog I might like them too.
You would have to bring them to see me though to see if we could get along.
I have been a ride in a car a few times and I like that as well, when my walker took me in the car to another field I simply lay down and went to sleep in the car, I didn't even do a bark. I went to the vets who checked me over and they say I am cute too and I got a clean bill of health.
I love people and giving cuddles and sometimes give lots of kisses too especially right down the ear holes, this makes my walkers giggle and if they sit down with me I can kiss them even more, well after all sometimes they need a little wash! Ha ha
One of my walkers describes me a cute cuddle monster, will you let me be YOUR cute cuddle monster? I promise I will never run out of cuddles or kisses for my special hoooman.
Please contact Senior Staffy Club and ask about me.
It tells you how to contact them below.
I would love a hoooman of my own
- see you soon I hope
Love (and licks of course)
Leo x
http://www.seniorstaffyclub.co.uk/Pages/Leo.aspx
Our Leo would like to say Hi to all who are following his story and has popped along to tell you what he has been up to this weekend.
'I had a very excitings weekend...well firsts I had a bath at the kennels, then I went on a car journey. I luvs riding in the car and sat quietly watching the world and all the trees whizz by! Then the car pulls up outside a nice house and I was introduced to a lady called Wendy who I was told woz going to be my frosty...no sorry foster....mom! Well I was over lots of moons..as I sooo want a family. I understands though this is only a temporary family till I finds my furever family..but it is still great and I am very happy. I have a lovely foster dad too called Malcolm and a foster fur-sister called Lucy...who I iz getting to know and I thinks we will be ok. It will be nice to wait here until my family finds me. If you are my new family who is looking for me I had better tell you I am now living in the Cheshire area..so maybes you would like to come and see me? If you would get in touch with
seniorstaffyclub@hotmail.co.uk
or ring Kate on 07513 591784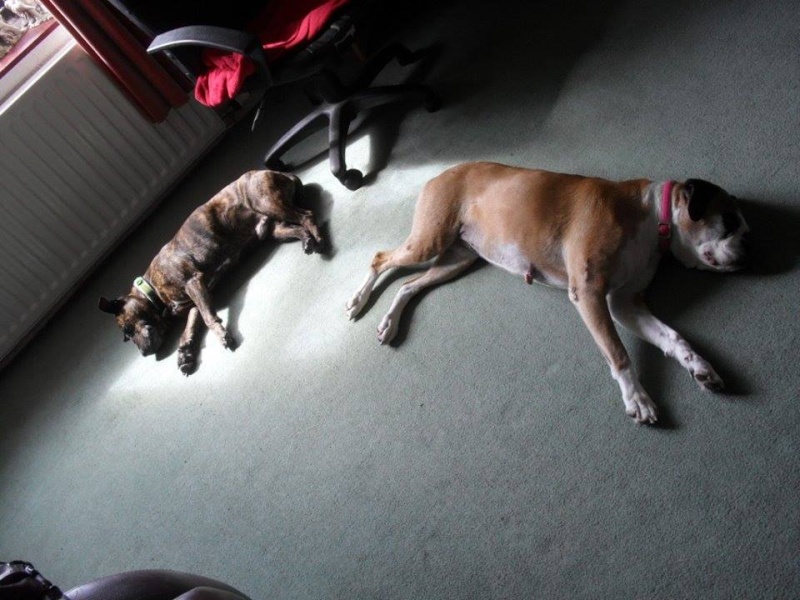 Can i change title admin to fostered Chester please

---
Permissions in this forum:
You
cannot
reply to topics in this forum