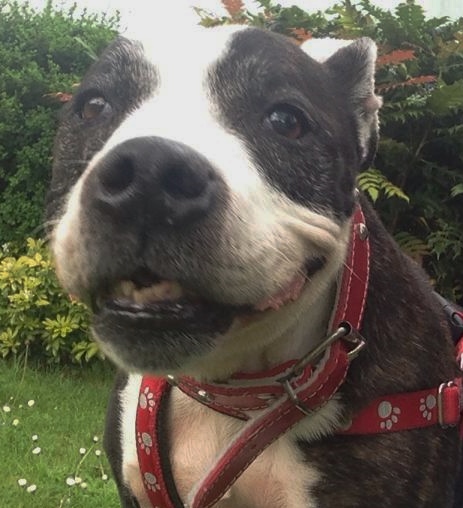 BRUCE
Age: 12yrs
Temperament: Friendly
Dogs: May be able to live with other dogs with introductions
Cats: Pending cat test
Children: 10yrs plus
Hello I am Bruce.
I am a very happy friendly chap.
I love having my walks out from the kennels where I am staying at the moment.
The walkers here say I am very good on the lead.
I even like all the other dogs who are staying here with me, so if you have another dog I might like them to.
You would have to bring them to see me though to see if we could get along.
I have been a ride in a car a few times
and I like that as well.
When I went in the car I went to the vets
and they have checked me over and I am fine - but they did point out that my eyesight is not as good as it was when I was a pup and neither is my hearing - but maybe you know some people who are a bit like that - comes to all of us!
I love people and giving cuddles - sometimes I can get a bit carried away and will 'mouth' your arm,
but only because I really like it when you give me some attention. If you remind me not to do it I quickly remember and will give you a big lick instead!
One of the walkers here describes me as
a 'proper old gent' - I rather like that :-)
If you would like to be my family I would be the perfect gent for you.
Please contact Senior Staffy Club
and ask about me.
It tells you how to contact them below.
I would love a family of my own
- see you soon I hope
Love Bruce x
http://www.seniorstaffyclub.co.uk/Pages/Bruce.aspx
Bruce is vaccinated, neutered and microchipped.
He is currently in kennels in the Worcester area
but can be rehomed anywhere in the UK pending a successful home visit.
However any adopter should be prepared to travel to meet Bruce where he is.
We do ask for a £90 adoption donation to help us to continue our work helping Senior Staffys.
If you want to know more about Bruce and may like to offer him a home
please get in touch at
seniorstaffyclub@hotmail.co.uk
or ring Kate on 07513 591784

---
Permissions in this forum:
You
cannot
reply to topics in this forum