Chance
Age: 2 years ... yes you read that right!
Temperament: Happy and Friendly
Dogs: Pending introductions, possibly
Cats: Under assessment
Children: Under Assessment
Some of you will remember a few weeks ago we posted about this lovely boy coming into our care who at the time we called Stan but is now known as Chance.
Well things have moved on with Chance and if you are sitting comfortably then we will tell you the story of Chance……
Once upon a time we were contacted by the dog wardens to ask if we had space to take in a 13yr old staffy boy aka Chance. Luckily for him at that time we had a space so we said we would do so…we had seen a photo of him and didn't think he looked 13yrs old but the dog wardens assured us that his chip details gave his date of birth as 2001. They too thought it odd but had checked it out with the microchip people who had confirmed it. So we took Chance into our care.
Then we got to meet Chance who then looked less likely to be 13yrs old in real life. Now he had come into our care we were able to check out his chip details ourselves. They gave his date of birth as 01/01/0001 NOT 2001 as the dog wardens had said – and clearly a default date of birth entered because his D.O.B was not known.
Further background investigation revealed that he had been chipped at a large local 'rescue' in November 2013. This rescue was contacted who confirmed he had been rehomed by them at that time having been in their care a week and they had him listed as 2 years old!. They had rehomed him un-neutered. We informed them of the situation but they stated they would not take him back as they were full. We did point out we were too and they had a responsibility to him – follow a heated debate which involved pointing out to them that this is the 4th dog we have had in our care that had originally been in their care and who they now refused to take back. When asked why he was rehomed un-neutered they stated they don't have a vet on site – neither do we just do lots of trips to the vets!
Anyway the next day they reluctantly 'on this occasion' decided they would take him back – but on reflection we at SSC decided that it would not be in Chance's best interest to return there as they would once again rehome him un-neutered to a home that was not home visited or checked out.
However, we did decide in order to give Chance the best 'chance' of finding a home, to approach another smaller local rescue who dealt with younger dogs and we also knew neutered all their dogs and homechecked all homes. We suggested to them that we take one of their older harder to home Staffys and they have Chance who would have more people see him there who are looking for a younger dog. They agreed but stated it would have to wait a week as the main person was on holiday. Great! A week passed and we contacted the rescue again….sadly to date none of our calls have been returned not even a courtesy call to say they are no longer able to take Chance.
So, as he has been let down by two rescues and one owner already in his young life Chance will now stay safely with us until he finds his new forever home – and become an honorary Senior Staffy until then.
Chance is 2yrs old, he is a gorgeous bundle of fun. He is a big boy but just a big goof! He is dog friendly and likes to play with everyone and everything. He walks nicely on his lead and knows some basic commands and travels well in a car. He would suit a home looking for a younger lively dog, who can offer plenty of walks and exercise. He could live with another dog with introductions. Any children should be older as he is quite bouncy and would knock smaller children over so 8yrs plus. Chance is a big and beautiful baby, with very unusual markings and stunning eyes, and we are honoured to have him with us….but it does feel strange to have a youngster in our midst!
http://www.seniorstaffyclub.co.uk/Pages/Chance.aspx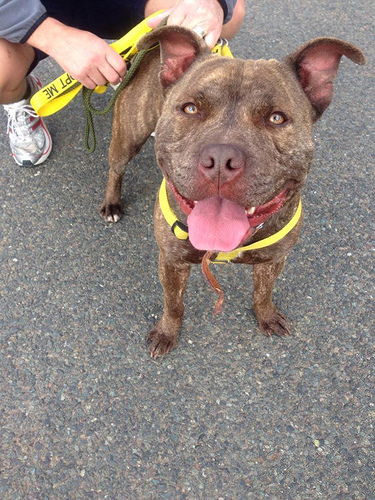 Chance our lovely 'honoraray Senior' at 2yrs old! - has been out for his walk this morning with one of our volunteer walkers. We thought we would share the feedback so you can get to know more about him...."Chance has got a good pace on him and is a joy to walk..he pulled a bit at first but once we got in our stride he was good as gold and the sun came out just on cue...he waited nicely when cars went past and we saw the usual sheep, pig and dogs and he wasn't bothered one bit.. Chance decided he would keep sampling the horse poo at the start of the walk!! - but once I explained what it was and its not the best thing to have as a mid morning snack he soon gave up ! Here is Chance sticking his tongue out at the sheep....lol! Find out more about Chance and how he came to be in our care at
www.seniorstaffyclub.co.uk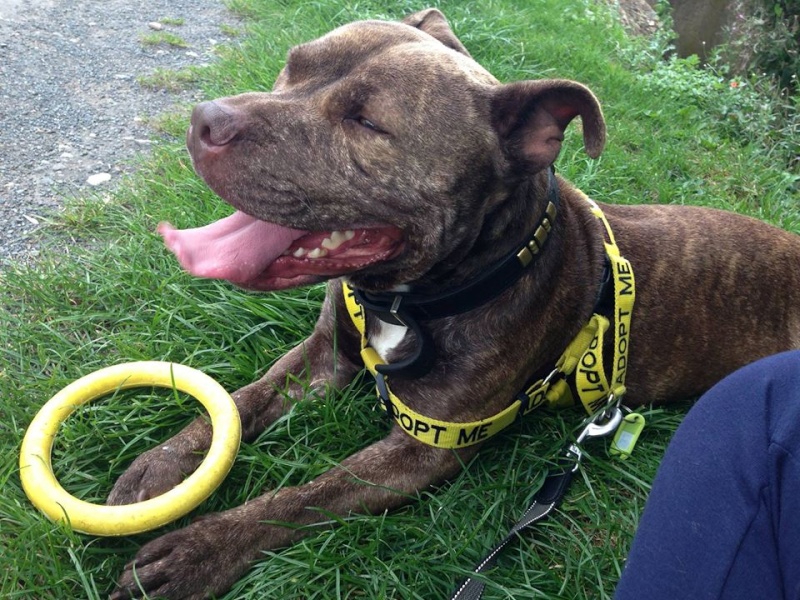 Great news Chance is now a forever dog

mole

Member




Posts

: 8924


Join date

: 2009-07-29


Age

: 63


Location

: Lancs/West Yorks border



so pleased for him

Andrea Hann

Global Moderator




Posts

: 3369


Join date

: 2013-01-18


Age

: 50


Location

: Bromley Kent




---
Permissions in this forum:
You
cannot
reply to topics in this forum