The following was posted on an unrelated thread by Julie Lewis
Am posting this on behalf of a friend of a friend.....this girl took in Fred for a weekend fostering back in October - the adoption fell through and they have had him ever since! This is what she sent to me earlier.....I can forward a picture - can't work out how to add on here

"We have been fostering Fred for three months now after a charity called Impawtant Pups put on Facebook that he was on death row at a council pound and needed a foster home to save his life.

He is approximately 12 years old but is still quite lively. He loves going for walks and is just as happy running around on the park as he is curled up in his bed. He is house trained, doesn't seem bothered by cats and is really good with other dogs (we have 2 of our own). He also loves human company and is very loving and affectionate.

His adoption fee is £80 and this will go to Impawtant Pups who are a non-profit organisation. The £80 will go towards Fred's vets bills and release fee from the pound. His new owner will need to have a quick home check and this can be arranged at a time that it convenient to them.

If you need any more information on Freddy, please don't hesitate to contact me and I'll answer any questions that you have.

We love Fred very much and hope he finds a home that will give him the attention and companionship he deserves. "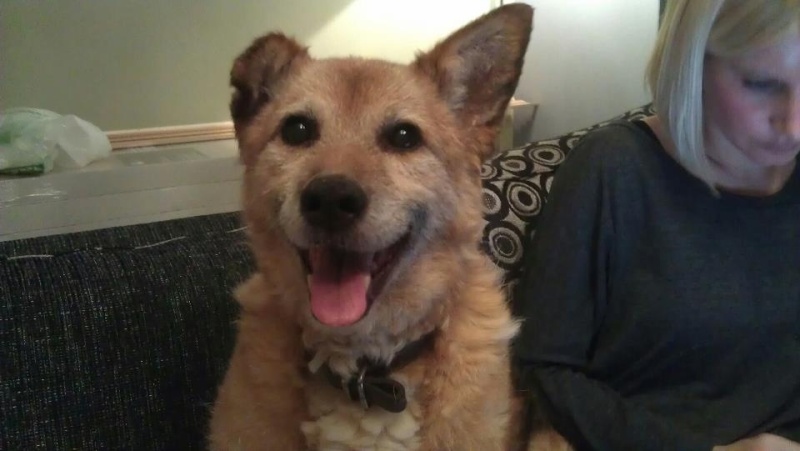 Do you know how big Fred is please Julie?
He's lovely

mole

Member




Posts

: 8924


Join date

: 2009-07-29


Age

: 63


Location

: Lancs/West Yorks border



Hi Kathy, from other pictures I've seen and from a work colleague who knows Fred, I would say that he is about 17" tall (roughly) and is about the length of a border collie. I will get more photos and a better description from his foster home and post on here. She has just come out of hospital though so it may be a day or two before I can post again
Thanks for adding the thread for Fred! x
yes he is....I took him to a lady in Birmingham last night for a 'sleepover' for the weekend. if all goes well they are going to keep him...seems he had a bit of a noisy night so hopefully he'll settle tonight. I really don't want a call saying he has to be returned
Unfortunately Fred has had to be returned because the person's neighbour's complained about the noise ... sometimes it does take more than one night for a new dog to settle down and there are ways to gradually get him used to being alone.

Am just trying to find out more info from the fosterer so that we can help Fred towards his forever home.

mole

Member




Posts

: 8924


Join date

: 2009-07-29


Age

: 63


Location

: Lancs/West Yorks border



Info on Fred from fosterer ....................
As with any other dog it took him a few nights to settle but I wouldn't say he had any behavioural problems. Obviously we don't know his history but he seemed to have settled well here. We have 2 other dogs and they took quite well to him and he took well to them. The lady in Birmingham has got one cat and one dog. She said that he had no problems with them. When he was with us he slept in our bedroom. One of our other dogs has not got fantastic bladder control and when in our bedroom she will scratch at the door if she needs a wee so we tend to keep them in our room for that reason.
Anybody able to offer this lovely boy a home
Hopefully more photos coming shortly.

mole

Member




Posts

: 8924


Join date

: 2009-07-29


Age

: 63


Location

: Lancs/West Yorks border




mole

Member




Posts

: 8924


Join date

: 2009-07-29


Age

: 63


Location

: Lancs/West Yorks border



for Fred ... anybody know somebody who wants to take on an older dog

mole

Member




Posts

: 8924


Join date

: 2009-07-29


Age

: 63


Location

: Lancs/West Yorks border




mole

Member




Posts

: 8924


Join date

: 2009-07-29


Age

: 63


Location

: Lancs/West Yorks border



Have just heard from Fred's fosterers that he has been rehomed and is very happy

mole

Member




Posts

: 8924


Join date

: 2009-07-29


Age

: 63


Location

: Lancs/West Yorks border




---
Permissions in this forum:
You
cannot
reply to topics in this forum