Contact/organisation details: Iron Mountain Canine
Does the animal have rescue back up?: Yes
Location: Leeds
Number of groups: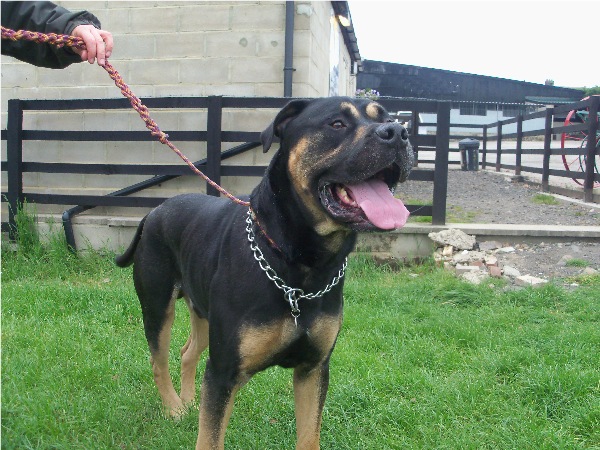 (repeat the following for each group)
Group:
Number of animals: 1
Type/Breed/Variety: Bullmastiff X Rottie
Sex: M
Age(s): 5
Name(s): Bullsai
Colours: Black and tan
Neutered: yes
Reason for rehoming: IMC kennel dog
Temperament: Gorgeous!
Medical problems: Split tail, stress washer
Neutering: Animal will be neutered/castrated prior to being rehomed unless for medical reasons. Can this be guaranteed? done
Will the group be split:
Transport available: no
Other:
Bullsai is an absolutely marvellous dog who is a firm favourite with all of us at IMC. He has lived with small kids in the past and met my own son recently. He has a head like an anvil and the heart of a budgie.
Bullsai is fully muzzle trained, after being attacked severely by a JRT (stop laughing) his owner trained him to walk on a muzzle in case he ever reacted to a small dog, he has met small dog under controlled conditions and has been non-reactive. He is regularly handled by our volunteer trainers who get all the dogs out for classes every sunday and is one of the most focused and attentive dogs we have - he really is a treat to work with.
Bullsai would be happy anywhere that people respect and appreciate him, and could live with a female dog of size.
gorgeous boy

---
Permissions in this forum:
You
cannot
reply to topics in this forum